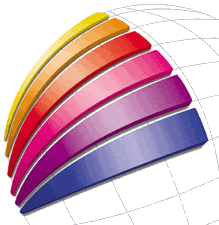 Web-related
New hot-link tool button to link map objects to specific urls, spreadsheets, or other documents.
New MapBasic add-on to generate hot-spotted html pages (aka "image maps") based on your MapInfo map.
Our Opinion:
The hot-links are a "me too" feature, in that ArcView has long offered and third-parties (including SGSI) have long offered the same functionality via free or low-cost MapBasic add-on's. Still, it is great to see MapInfo embrace the concept and--better still--extend MapBasic to make the functionality controllable programmatically.
The MapBasic utility to create hot-spotted html "image maps" we think will be even more widely used. It will give many organizations an inexpensive way to get maps on the web--albeit as static not dynamic images.
Note: "Image maps" are not a substitute for MapXtreme or MapXsite, MapInfo's widely-used interative web map server software options.
3d Perspective views
Three-dimensional perspective viewing is helpful for visualizing terrain and other grid map layers.
Note that this is not a 3d perspective viewer for zip code, street or other non-grid map layers. It applies only to grid maps, although 3d grid map layers can have street map layers draped over them.
Access 2000 + Multi-User enabling
Read/write data for all versions of Access, including Access 2000.
MapInfo users can now read/write Access databases even if the databases are also open and in use by completely different Access applications. This has been a frequently-requested feature.
New improved direct OCI support for Oracle 8i at Revision 8.1.6 and continued support for Revision 8.1.5. Note that this is direct OCI support, not just ODBC.
Better color printing
Define your personal preferences for important parameters related to color display and color printing.
24-bit Color printing is now supported for the first time. [24-bit color display has been supported for some time.]
A new color printing method is available which should speed up printing for some users.
New Object menu options: e.g., build a region enclosing all points in a table; build a region from simple street lines.
More style and alignment control over cartographic (non-thematic) legends.
Choose 1 of 3 alternative clip methods to constrain the area to show in a map windows.
Better Scale Bar, and other included MapBasic utilities.